Did you know? In recent studies, it's found that more than 80 percent of companies use a learning management system. Thus, LMS users have surged in the past years with the advancement of technology. We are sure that you are aware of the e-learning management system. Even if you don't know about it, we will discuss it in this article. In addition, we will share the basics of LMS, its usage, and the benefits of a learning management system for students and administrators.
Therefore, let's understand more about the term LMS in detail.
1. The basics of the Learning Management System
The Learning Management System (LMS) is online software that provides eLearning programs. Also, it helps in delivering all aspects of the learning procedure. In short, it's often termed as LMS. LMS is beneficial for various types of audiences. Whether it's administration or automation, training programs, or educational programs, LMS proves to provide a complete learning solution. In the higher education sector, the learning management system's first appearance took place in the late 1990s.
It provides the various needs of learners. With the help of LMS, you can house, deliver, and track your training content. It makes things easier for those who handle training and development. Also, LMS helps enhance the learning process.
For example, LMS Moodle is an open-source learning management system. It is used by learners worldwide in huge numbers. Above all, moodle learning management system provides security, privacy, flexible learning, easy integration, and access to many more features.
Now, let's understand how LMSs usage takes place.
2. How does LMSs use take place?
In detail, let's understand this section where you can know more about how its usage takes place.
LMS assists the training executive to operate the whole life cycle of learning procedures within an organization. They are an essential instrument for any company that desires to carry out an extensive online program.
To create online courses that train and educate the employees, a company generally uses LMS. However, some LMSs allow you to build directly on their platform, while a few LMS require different authoring tools to create the courses.
Then, the learning management group applies their LMS to stock, arrange, and assign courses to employees as per requirements. Via the LMS interface, employees can take the courses and submit their feedback too.
It is also used by learning managers who manage their programs within an organization. Their task is to allot roles and consent to various users to select among teachers and learners. Besides, there is an organization of courses by subject to bring out the pathway followed by the employees. And that's how they keep track of individual employees' progress and the suggestions or feedback provided by the employees.
Note-Cloud-based learning management systems provide you with solutions within reach from anywhere and if you have an internet connection hosted on the web. It's helpful in many ways and has several benefits.
3. Types of Learning Management System
Now, since you understand LMS basics and how we use them, Let's know the types of LMS. You must be curious to know about the kinds of Learning Management Systems. Let's understand the different types of Learning Management Systems.
3.1 Free vs Commercial
Free software or Commercial platform is the first confusion companies face while choosing an LMS. It creates a dilemma for the organization. At the same time, both have their benefits.
Commercial software is easy to deploy and use. It also provides support staff, but it costs money too. Free software is open-source and is for free use. It provides you with free LMS, which are available. It offers easy modification and is highly customizable.
3.2 Cloud LMS vs Hosted LMS
There are two different views on web-based software.
Cloud-based learning management systems provide better information security. It also offers more storage space. You can select a cloud LMS, or host the software by yourself.
3.3 Integrated
The Learning Management System has come so far compared to the earlier days of e-learning. Since LMS is sophisticated, one of the important thrilling developments that require it is the ability for the system to integrate with another application your company already uses. Depending on your company's needs, you may keep track of an LMS that traits this type of integration of the app.
3.4 Open Source vs Closed Source
Whether it's web-based or installed software, both consist of open source and closed source.
4. Benefits of a Learning Management System
Since we have taken you through a detailed analysis of the LMS above, we cannot miss out on its benefits. There are numerous benefits that an LMS developer provides. Here we are discussing the 10 benefits of a learning management system. Thus, let's see what it holds.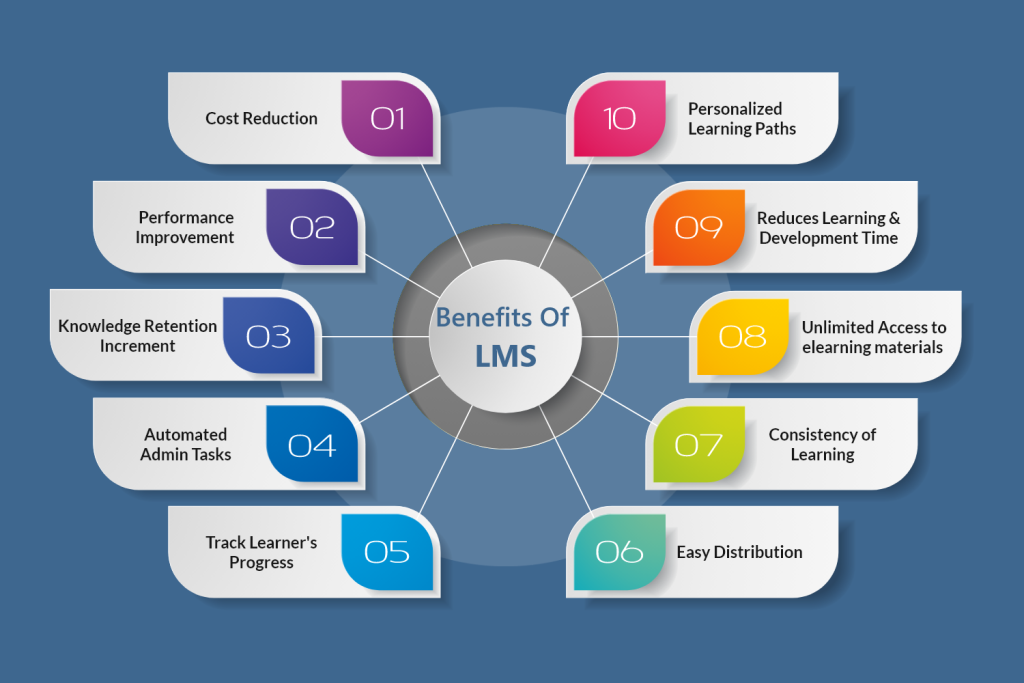 4.1 Cost Reduction
The benefit of an LMS platform is that it helps save your money. Also, the cost is reduced for training. For example, a trainer doesn't need to travel, which leads to a reduction in boarding and lodging charges. Moreover, the suitable LMS also helps in reducing the cost of teaching to a greater extent. Everything is digital that also saves a lot of other expenses.
4.2 Performance Improvement
It helps in performance improvement. Above all, each learner learns uniquely. It's fast and reduces time. Therefore, it leads to the advancement of performance. Also, the content provided by the LMS is engaging and captivating. It results in more learning and more focus by the individual.
4.3 Knowledge Retention Increment
LMS increases knowledge retention. Embedded authoring tools in LMS make trainers create more engaging content by using images, GIFs, videos, etc. Learning Management Systems consist of various features that help in enhancing knowledge retention. It offers learning analytics that provides aspects of improvement. LMS platforms enable admin users to make assessments and utilize them in different scenarios.
4.4 Automated Admin Tasks
The Learning Management System provides automated admin tasks. Many features require less effort and help you do the tasks faster and more efficiently. Moreover, LMS provides the addition of learners with a simple connection and keeps the learners on the right path.
4.5 Track Learner's Progress
LMS provides you with the ability to keep track of learners' progress and ensure that learners meet their performance targets. With LMS, it's easy to track your learners. You can keep an eye on who performed the tasks and who didn't.
4.6 Easy Distribution
A learning management system allows you for easy distribution. For example, the course content can be distributed to learners just by sending email which is easier. All you have to do is upload your users to the Learning Management System and send invitations to them by email. Also, you can copy and paste the URL of the course and send an email to your users by using LMS.
4.7 Consistency of Learning
LMS gives you the consistency of learning. With its use, you are likely to remain more consistent and focused. The content used by LMS is centralized, which means that learners have the content of courses, instruction, etc., up-to-date. There is no last year or expired material. Thus, it provides more modification and consistency.
4.8 Unlimited Access to Learning Materials
By uploading your online learning course on the LMS and publishing, your learners get unlimited access to the learning materials. It is used globally and has audiences who get access in their specific time zones.
4.9 Reduces Learning and Development Time
The Learning Management System provides you with the authority to reduce learning and development time. Moreover, all the information and access required by your online learners are included in the LMS. Thus, you can save a lot. Hence, it results in less consumption of time as things are quick.
4.10 Personalized Learning Paths
There are many other benefits of LMS as well. But, summing up, you need to know that LMS provides personalized learning paths that make you more skilled.
5. Conclusion
In conclusion, if you think an LMS is suitable for you, stop comparing LMS features at various places and connect with us to know more about the LMS software. You need to think about and consider tons of things when choosing the right LMS platform. We at Take2 Technologies offer solutions that are efficient and time-saving. We would love to hear from you more.
For more updates on the Learning Management System, stay tuned with us.
Simultaneously, check out our other blogs as well.
https://taketwotechnologies.com/ionic-6-phaser-3/
https://taketwotechnologies.com/moodle-4-0-development-new-release/
https://taketwotechnologies.com/moodlelms/
https://taketwotechnologies.com/moodle-plusbigbluebutton/
https://taketwotechnologies.com/synchronous-learning/
https://taketwotechnologies.com/moodle-based-lms/
https://taketwotechnologies.com/moodle-4-0-course-page-structure-release/
https://taketwotechnologies.com/moodle-4-0-dashboard-redesign-unlocked/
https://taketwotechnologies.com/roadmap-to-moodle-4-0/
https://taketwotechnologies.com/technology-trends-2022/
https://taketwotechnologies.com/secure-wordpress-site/
https://taketwotechnologies.com/cyber-security-educationproviders/
In addition, follow us on Linkedin to get all the recent updates.
https://in.linkedin.com/company/take-2-technologies
Above all, get in touch with us for your requirements.
Also, we would love to hear from you and solve your queries.