What is a learning management system?
A learning management system is software. It is helpful for students because it helps to assist in education. Moreover, a moodle-based-lms can be more beneficial. You can manage the training of various courses and techniques. In short, it is web-based technology used to program and execute. Students can also estimate a detailed education procedure.
And it permits the students to authenticate and establish themselves. Moreover, students can register for the lectures, finish the course. They can also take estimations for their learning results.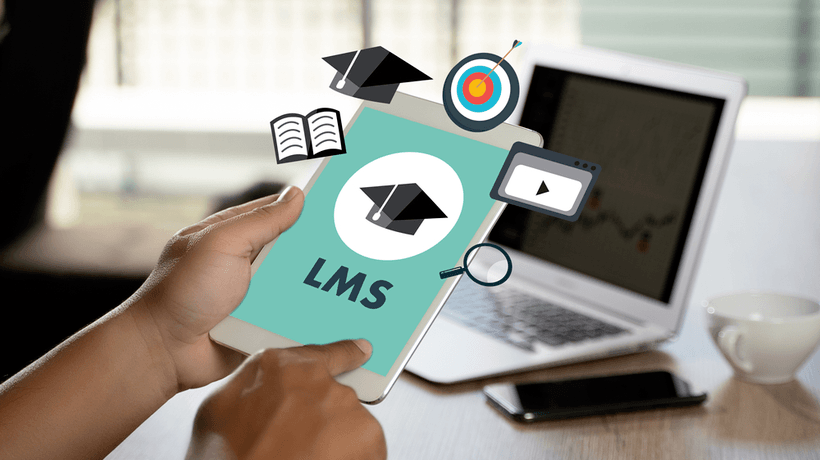 Many communities across the planet are embracing learning management systems(moodle-based-lms). They are using moodle-based-lms to supplement their education and training requirements. We always told you that moodle is an efficient system. And it has tons of feature options. And it can make your learning environment more seamless. Moreover, we have updated you with the latest news of moodle 4.0 and BigBlueButton, and plugins. But if still, you have this question in your mind, why only moodle? Why should we use a moodle-based-lms instead of any other system? Then we have answers to your question.
Let us compare traditional classrooms with moodle-based-lms. And we are sure that a moodle-based-lms delivers various benefits. And if you have doubt, you can compare it to a physical classroom.
So, if we talk about regular classroom learning, there are many limits to learning in it. A single classroom in which one teacher explains the syllabus to all the students. Regardless of their capability to understand and memorize. Whatever the capability, a moodle-based-lms enables you to learn at your speed.
Moreover, learning with a moodle-based-lms helps you to learn more and more. So, in an lms, you can understand the content in microlearning. Meaning you have to deal with small course units and short-term learning exercises. And it allows the learners to learn one chapter at a time before moving to the next chapter.
Another benefit of moodle-based-lms is that students can learn from anywhere and anytime. Like – In their homes, offices, or while on the move. Students have no limitations with an lms like they have with physical classrooms.
What is a moodle-based learning management system (lms)?
There are various types of learning management systems available. But moodle-based-lms is the most well-known and very popular lms. This system is open-source, which means anybody can use it. Plus it is free of charge, which means you can download it without any cost. Moreover, it is a very flexible and friendly online learning medium. The global community supports this platform. And over 68 million users from all kinds of organizations embrace moodle-based-lms.
The moodle-based lms is perfect for:
Compliance training
Online course development
Competency-based training and management
Onboarding training
Workplace safety training
Product and service launches
Hiring, recruitment, and consultation procedure
Here are some significant characteristics of moodle for you to consider.
1. Very configurable software
Being an Open Source software, moodle modifies with remarkable refinements. And moodle also integrated the new improvements with the latest interpretations. The community of developers all over the world makes it more reliable. They make it a more customizable software.
The moodle permits you to create tweaks to the software. You can add the needed moodle plugins, themes, or anything you need. And that is how you get the ideal lms. Moreover, the most significant advantage, you pay for what you get.
2. Moodle talks plain PHP
Well, PHP is a well-known language for its effortless deployment and execution. And moodle talks in the PHP programming language. And that is the advantage for us. This means that the language paves the right path for unlimited capabilities and functionality.
Moreover, it is very flexible so, you can run on any platform. For example – Linux, Unix, Windows, macOS. And even on the newbie, Ubuntu has made PHP the best choice for composing moodle software. Therefore, writing moodle software in PHP has made moodle self-sustaining on any platform. Like its software language.
3. Plenty of plugins
If you see then, there are about 1500 listed plugins in moodle plugin directory. And people downloaded these plugins more than 366.6K times. So, the chances are that no other lms except moodle will have these many plugins. These add-ons provide you with great adaptability. Therefore, if you want to improve your lms, you can add them. Or else, you can dump the same. Isn't it a great thing?
Besides, there are some add-ons available in moodle. Plugins like – Advisor RemUI, H5P, Kangaria, Poodle, LearnerScript, Etc. To name a few, which are nothing short of superiority. Such plugins will not only deliver it an edge over other lms, but they will also make it an excellent choice.
4. Estimation-type flexibility
If you ask a developer or a moodle developer, what is the one great benefit of moodle?. And you will get only one answer, and we are sure that you will never find it on google. Yes, and the answer is *Quizzes*.
*Quizzes* They are the soul of moodle lms. Moodle delivers different kinds of assessment types. And, all are free of charge.
For example –
Questionnaires
Quizzes
Assignments
Hot spots
Audio-and-video type assessments, Etc.
5. Feedback approach
The feedback method in moodle is a piece and pack of the lms. It benefits in such ways as it helps to understand how your program, coaches/educators are doing. Moreover, you can check how your educational methods are going. So, that kind of thing which is otherwise not possible to understand.
With the feedback in moodle, you can enhance the grade of L&D measures. In other words, it helps to curb formality-type training. And it is only a burden and reduces the chances of your organization getting a good ROI. For your training assessment, there are different types of questions available. For example – multiple-choice, essay answers, and thus form feedback in the system.
Top 10 advantages of a moodle-based learning management system (lms)
1. Friendly interface
In 2016 Brandon Hall Group analyzed lms and conducted research. And the result of that research shows that 44% of the corporations use an lms. But they were feeling to replace them with ones that could deliver a friendly experience. So, an lms requires to have a familiar interface. It also requires self-descriptive navigation components. And a moodle-based-lms provides what we exactly need. Moreover, the moodle-based-lms is effortless to use. And which means you have to invest the least time in exercises and training to teach your workers to use it.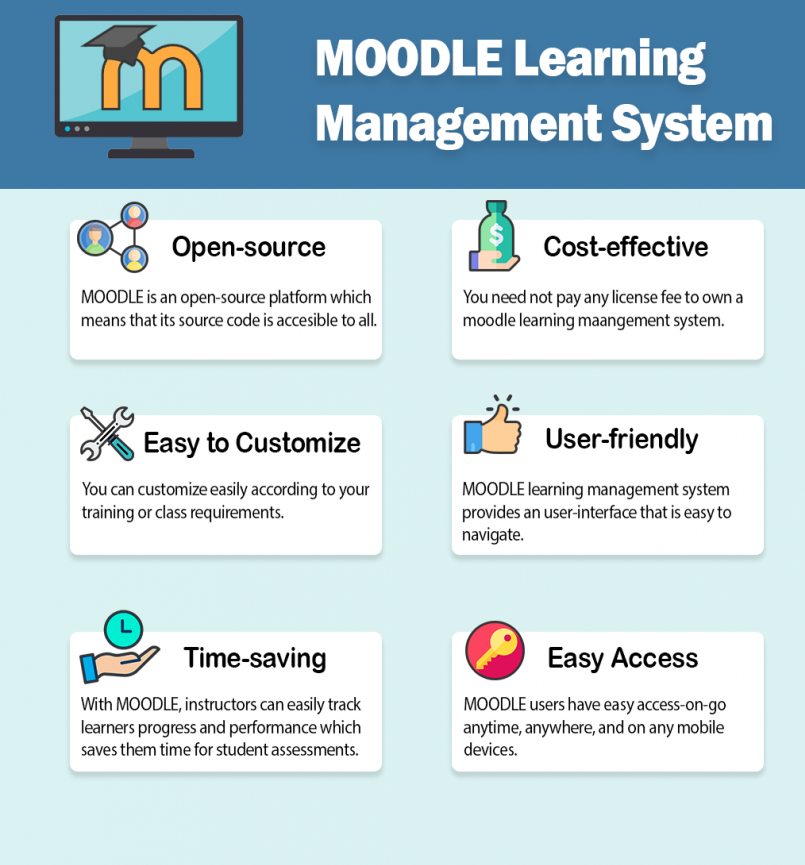 2. Easy integration
You can integrate a moodle-based-lms (learning management system) with your different business operations.
For example –
Human resource management
observation
skill direction
workflow management
client connection management
payment processing
Moreover, it also has elements that allow data sharing across all landscapes.
3. Content management
moodle-based-lms support all the new eLearning measures and standards. For instance – SCORM and Tin Can/xAPI. Moreover, it also permits you for so much stuff. Like you can upload existing documents and videos. And you can also share notes and events between classes or learning exercises.
4. Easy access
With a moodle-based-lms, you can resize the screen. Plus, it has a very responsive structure. Also, more and more people are using their smartphones on the go. So, it is necessary to confirm that the lms support mobile learning. Thus, the content must be interactive and delivered in small segments.
Moreover, the moodle-based lms has essential components that allow communication through chat boards. So, if users want social engagement, they can interact.
5. Blended learning features
Also, to provide online features, this lms supports offline learning. And it also includes features to track, document the events. And you can also estimate online and offline events.
6. Estimation and testing
The moodle-based lms supports pre-test and post-test. It is a sort of part of the learning process. Also, it has many adaptable testing and assessment qualities. For example –
automatic and manual marking,
storing a complete assessment portfolio of a learner, Etc.
7. Reporting and tracking
Apart from estimation and testing, the moodle-based system includes some other features. So, you can track and document students' improvement via an education path. Besides, You can analyze the exam performance of students. Plus, you can record which students have achieved particular learning items. Plus, which students have not accomplished yet. Moreover, in the case of e-commerce, you can track purchases and revenues. Plus, you can check the implementation of marketing initiatives.
8. Security
You cannot underestimate the importance of data security. An lms includes student records and confidential information. It also keeps data that is proprietary in nature and of commercial significance. And the secure sign-in feature of the moodle-based system helps protect sensitive information. It also permits managed access so you can maintain data integrity.
9. E-commerce functionality
You can earn extra revenue from the sale of your courses. But you have to confirm that your learning management system delivers e-commerce functionality. So, it allows you to track purchases and generate complete revenue reports & features. Moreover, the moodle-based system has the proper functionality to help e-commerce. It includes payment gateways to permit clients to make their purchases.
10. More than 500 plugins
The moodle based system is configurable, adaptable, and feature-rich. And it has more than five hundred plugins invented by a global community. Like students, executives, and administrators. And it allows you to achieve all your business needs. And you can make your learning coordinated, engaging, and fun.
Conclusion
All types and sizes of associations embrace the moodle-based lms. And that is because it is configurable, very adaptable, and feature-rich. The reason is that it is open-source and free. As a result, it is open to exploration. Moreover, developers can access and change the principles. So they can make them more secure and reliable.
Moreover, a big community of students, executives, and administrators is adding new plugins. So it can add new features and functionalities. With new features, we can fulfill our evolving learning needs.
So, get in touch with us for more information about moodle and BigBlueButton. Or if you are new to our site, you can visit Here. And, so for moodle updates, you can check out our previous moodle blogs. Check out below.
Moodle 4.0 Course Page Structure Release
Moodle 4.0, sneak peeks into the UX
In addition, follow us on Linkedin to get all the recent updates. https://in.linkedin.com/company/take-2-technologies
Also, get in touch with us for moodle requirements, we would love to hear from you and solve your queries.