There are multiple innovations and revolutionary ideas taking place in communications.
And these innovations are making the surge worldwide. It is exciting to realize that the old and traditional methods of providing knowledge in colleges, institutes, or schools are also impacted to a much extent.
At current, the reports and research show that approximately 38 billion Euros is the estimated worth of the online education industry. In the US, more than 3.5 million students have enrolled themselves in online degree courses.
Most of the universities, colleges, institutes, or organizations that offer online courses mostly use learning management systems to provide benefits to the learners.
They also keep track of students' learning materials. A learning management system is beneficial in tracking the students' learning progress as well.
Moodle™ is the most popular learning management system across the world.
Moodle™ learning management system is quite a popular and influential innovation. Before we understand the other terms, let us understand Moodle™ and why it is used as an elearning management system.
So, let's begin with understanding Moodle™ first and the key benefits that it has to offer.
About Moodle™
Moodle™ is an open-source platform.
It is a learning management system that is beneficial to both the parties involved in it that are educators and learners.
It provides the concept of online learning and helps numerous educators understand the different courses, the structure of the courses, and the curriculum.
Therefore, Moodle™ LMS helps impart the interaction with online students.
Talking about the history of Moodle™, it was developed by Martin Dougiamas.
From the time of Moodle™'s inspection, the agenda was clear. And this agenda was there to make a suitable contribution to elearning management systems.
It also leads to the start of online programs and the distribution of online degrees.
Moodle™ stands for Modular Object-Oriented Dynamic Learning Environment.
According to fact check and the statistics, around 14 million users are using 1.4 million courses stated by Moodle™ learning management system.
As we see, the calculated figures are astonishing. Therefore, Moodle™ is making its place, and Moodle™ LMS is unstoppable now.
Key Benefits of Moodle™ LMS
Now, that you know about the Moodle™ learning management system, let's have a glimpse at the key benefits offered by Moodle™ LMS.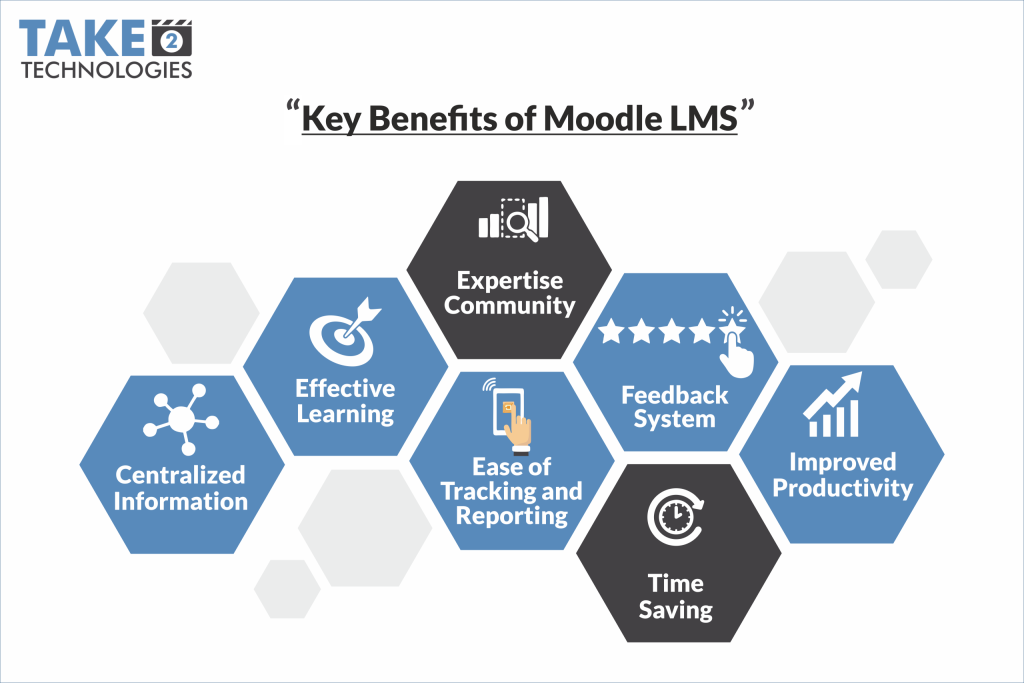 Centralized Information – The information provided in LMS Moodle™ is centralized. It means each specific area can be approached with a learning management system regardless of the design and course content. Students using LMS gets access to learning modules whenever they need them. Also, it is easy for students to work with educators and peers. It gives the learners the feeling of having control over their learning process.
Effective Learning – The learning offered via Moodle™ LMS is effective and efficient. It comes with a flexible approach and has the latest features. It provides a flexible solution to any problem. It offers training at the highest level and consists of an effective training program for meeting the requirements of any organization.
Expertise Community – Moodle™ is an open-source platform. It consists of the expert community. Moodle™ learning management system is supported by a large global community of experts and Moodle™ developers. It is constantly updated and understands the requirements of the learners. It offers a better user experience and consists of endless learning resources.
Ease of Tracking and Reporting – Moodle™ elearning management system provides learners with constant training. It doesn't disturb the workflow of a learner and is cost-effective. The progress of your learners can be easily tracked with the use of LMS in online training and online courses.
Feedback System – An elearning management system offers the feedback system. This feedback system is helpful to analyze the students' performance and the requirements. The feedback system is ideal for the course and teacher evaluations. It helps in collecting the responses to course content.
Time-Saving – Since the elearning management system gives the information according to the learners' needs. Onboarding new employees and giving them training with the use of LMSs is fruitful in saving a lot of time. The performance reports are automatically created and the grades are provided to the learners.
Improved Productivity – The use of elearning management systems contributes to the multiple advantages that are considered in improving the learners' productivity and effectiveness of the business resources. This system renders the learners with a flexible approach to training for the learning phase via desktop or any other mobile device. Moodle™ LMS contains various training and management tools that make a chief difference.
What are the learning management systems?
You must have come across this term a lot, now let us understand in depth about the elearning management system.
Various educational institutes want to spread knowledge and information while having interaction with the students. To meet the requirements, there are certain tools present that offers exclusive course management options using an online presence.
And these are known as elearning management systems. It mainly consists of two parts: a server that offers the performance of the base functionality and a user interface that is operated by administrators, students, and instructors.
It gives advantages to a large number of organizations, higher education institutes, and corporates.
Major Advantages of Moodle™ as an LMS.
Now, that you have an understanding of Moodle™ and the key benefits that are involved with Moodle™, let us understand deeply why to use Moodle™ as an elearning management system.
An LMS offers numerous advantages. The use of a learning management system leads to time-saving and is cost-effective.
It provides Moodle™ with the ability to track the progress and performance of a user.
Moodle™ represents common features and similar online learning tools.
Moodle™ is used as an elearning management system because it gives the experience of customized online training and learning experience.
There is an ease of choice to update and check activities in eLearning modules.
Moodle™ as a learning management system also ensures the training and learning materials are distributed efficiently.
It consists of the use of automation that is effective in removing repetitive tasks.
Moodle™ LMS makes an impact and focuses on more important activities.
Moodle™ is also used as a learning management system because it is available in all types of famous languages. It offers the ease to teach students in your language.
LMS Moodle™ is a platform that exchanges data with the use of open industry standards. This exchange of data is helpful for web deployments and supports, proving to Moodle™ in offering seamless integration.
In many LMSs, there is a basic lack of proper documentation. Moodle™ comes to the rescue by offering outstanding documentation and form support. There are tonnes of documents that consists of every topic related to Moodle™. In case you don't find any specific topic, there is availability to ask community members. These community members offer help in finding out the relevant topic from the document.
Another reason for using it as an elearning management system is that it is always up-to-date. Moodle™ is an open-source platform and is managed by the global community. Therefore, it is constantly reviewed and updated to meet the requirements of its users.
Many versions of Moodle™ have been released so far, the latest release consists of version Moodle™ 4.0 which is feature-rich and offers user experience improvements.
Moodle™ as an LMS provides a powerful set of learner tools. It also offers collaborative learning environments that empower teaching as well as learning experiences.
Learning management systems offer a blended learning experience. Blending learning experiences include the combination of the traditional and old methods of teaching in the classrooms with online learning tools.
Blending learning experiences are more flawless than face-to-face teaching. Because it enables the classroom experience with the blend of digital content. These digital contents are customized to fit students' specific requirements.
In addition, Moodle™ LMS offers plugin options. Moodle™ learning management system features blogs, chats, content management, regular assessment, a support system, quizzes, etc.
There are various plugin options available in Moodle™ LMS.
Conclusion
There is competition with the rise of other learning management systems in the market. But, the updates and the constant improvements in Moodle™ make it a most loved platform.
Moodle™ is used as an elearning management system due to the extraordinary features and plugins that it offers. With the continuous surge in the online learning industry, it will be interesting to see, what more it holds in the future.
Take2 Technologies delivers the finest experience with a team of passionate and dedicated Moodle™ developers. We provide constant Moodle™ support and have a team of experts.
Moodle™ offers benefits to various stakeholders. Moodle™ as an elearning management system encourages collaboration, consists of direct learning paths, and includes multimedia integration.
Hence, Moodle™ is powerful in the learning management system industry.
To get the latest updates, follow us on Linkedin.
https://in.linkedin.com/company/take-2-technologies
To know more updates about the latest technologies, check out our blog section at
https://taketwotechnologies.com/blog/
Also, we would love to hear from you and solve your queries.