The moodle lms is releasing moodle 4.0 very soon. And currently, moodle 4.0 is the centerpiece for moodle users. And, moodle users are very excited about the update. So, moodle is continuously updating the news about the new version and launch. And, this time we bring you the latest update about the BigBlueButton. Yes, moodle lms is adding new integrations. and it also implements new features and tools. And these tools will create a seamless learning environment. It will help learners, teachers, administrators, and managers.
The global online or e-learning business is expanding. Thus, the mainstream selection of education administration programs has highlighted something important. So, they highlighted the importance of the formulation of education methods. And it is not only feature-rich and configurable but also interactive. And it is also engaging and intuitive.
Well, besides all these updates, our new visitors are asking what moodle is? And what is the complete form of moodle lms?. So, let us talk about what is moodle?.
What is moodle lms?
So, moodle is a learning management system. And, it is a platform for online education that allows you to design online classes, attach tasks, and have an eye on your learners' improvement. It also enables you to interact with the learners. And it supports interaction between them in conferences and discussions. The moodle stands for the modular object-oriented dynamic learning environment. And, It is an education program platform. It is an original robust, reliable, and secure integrated system. And moodle lms helps to create personalized learning environments. Moreover, the invention of the moodle lms accommodates instructors, managers, and students. So, now let us get back to our main subject. So we were talking about BigBlueButton.
The global lockdown has drawn attention to the significance of virtual learning. And, it encourages student commitment through integrated virtual classrooms.
BigBlueButton, The web conferencing explication implementing the real-time partition of the options in moodle 4.0. Like audio, video, slides, whiteboard, chatter, and screen. The moodle 4.0 includes these options as an official feature. Currently, it is available as a moodle plugin. BigBlueButton enables instructors or administrators to work with breakout rooms. It also allows for votes, multi-user whiteboards, and shared notes to involve students.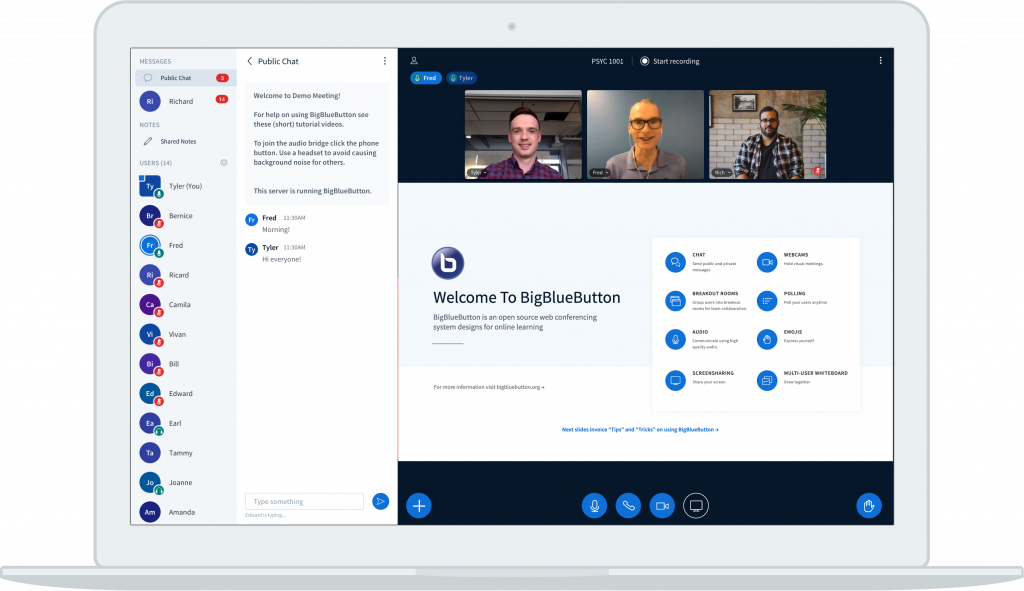 Like moodle, BigBlueButton is open source. As a result, This implies any academy can install up their BigBlueButton server. Moreover, they can host their virtual lectures. Blindside Networks, the organization that commenced the BigBlueButton design. And, the developer of the Moodle plugin will submit a built-in free tier hosting. It will permit any institution operating moodle lms (moodle 4.0) to work out BigBlueButton right away. The free tier hosting will introduce an arbitrator webcam and seven-day non-transferable records.
Estimate the influence of training
There is a rising global trend to use data to estimate learners' growth. And also examine the influence of training meetings. Therefore, moodle lms is incorporating custom reports into the new version of moodle lms (moodle 4.0). That is a feature of moodle workplace. So, instructors and administrators can create system-level. Moreover, they can also create custom records to produce further insights.
Besides, moodle lms will combine all reporting into a report builder. So, that will provide a single and consistent interface for lms reports.
This will filter records by distinct components of the data. And it will transport them to a series of compositions. it will send it on time and limit them to particular listeners based on their positions.
Drop closures between system structure
The moodle lms has embraced Learning Tools Interoperability (LTI).
So, it will install the smooth integration of outer mechanisms into moodle. And, moodle lms assures that students experience this with security.
Learning Tools Interoperability is a certified LTI Advantage Comprehensive platform. So, It eliminates gaps within and between systems. It supports moodle so that moodle lms can connect with outer training tools. And also, users can get external content from a moodle lms site.
Moreover, with LTI learners can remove the need to navigate different websites. And this will lead to a smooth and superior learning experience. As a result, moodle 4.0 will drive interoperability one step further by jumping from LTI 1.1 to 1.3 Advantage standard.
LTI heightens moodle's capability to work as an LTI provisioner. And the capacity to host content for other LTI programs to use. The moodle has embraced the modern standard. And, it wants to cut as many technological obstacles as possible. Moreover, moodle lms is trying to build united digital ecosystems. And it also assures the secrecy and protection of data.
So, Get in touch with us for more updates about the release. And if you're new to our site then you can visit Here. and for more moodle updates you can check out our previous moodle blogs. Check out below.
https://taketwotechnologies.com/moodle-4-0-dashboard-redesign-unlocked/
https://taketwotechnologies.com/roadmap-to-moodle-4-0/
In addition, follow us on Linkedin to get all the recent updates. https://in.linkedin.com/company/take-2-technologies
Also, get in touch with us for moodle requirements, we would love to hear from you and solve your queries.