We are back with a piece of meaningful information about the BigBlueButton. Yes, as we told you about the moodle lms with BigBlueButton in our previous blog. You can check out here.
Besides, are you finding a solution for online classes with zero expense? Especially in this disaster period? Or are you looking for how to integrate moodle with BigBlueButton? Then you are at the right place. Well, in this case, the only device you need is your computer system. So, you have to do one small thing, install the moodle lms and plugin the BigBlueButton with it. Yes, that is it. After that, you can start your lectures right away. Let us take a little sneak peek of what is moodle? And what is BigBlueButton?. And, then we will tell you step by step how to integrate moodle with BigBlueButton for your online class?.
What is moodle?
The moodle is an lms. People use this to get an original, robust, reliable, secure, and integrated system. Moreover, you can build a personalized education environment with moodle. And thus, this moodle system is very serviceable for teachers, administrators, and managers. And especially for students. Moreover, you can download the software on your server.
Topmost three advantages of moodle:
The moodle is an open-source and FREE-of-charge system. In other words, users and corporations have the right to operate, and analyze. Users can also distribute and transform the software system to match their requirements.
The global community and its developers support moodle lms. And that is the only reason moodle is the best and most successful lms. Moreover, the code is open for analysis. In other words, developers from every corner of the world can get the cipher. They can also change it, so they can make it more reliable.
The moodle is configurable, adaptable, and feature-rich. Several moodle plugins are open. And that permits you to configure moodle, So it functions to your liking.
What is BigBlueButton?
BigBlueButton is a web conferencing system that covers the process for virtual sessions. Moreover, the software is accessible as a plugin for moodle program end users. The most significant benefit is that it is an open-source plan. And it is free of charge.
The BigBlueButton plugin permits to:
Generate various project links to virtual classes within any program.
Limit learners from registering for a class till a mentor join the class.
Set in motion the BigBlueButton in a different window.
Design a system welcome note that pops up at the tip of the chat window when entering the class.
It permits setting down open/close hours for the class that appears in moodle schedule.
Record a class.
Access and watch tapes.
Before we get into the business of this installation, let me tell you something. Apart from the moodle teachers, BigBlueButton integration is also helpful for these communities.
Private educators/instructors
Virtual coaching institutions
Small schoolhouses, corporations, government offices
small-sized enterprises
Corporate areas
Now, let us go into a step-by-step tutorial on how you can merge moodle with BigBlueButton?.
Let us assume that you have no idea about moodle. But then, how you will integrate?. No worries, you have to follow step by step procedure, and then you will be all set for your virtual classes.
# Step 1 Log in to moodle lms
You have to log in to your moodle program with your administrator ID. Then it will direct you to your administrator page.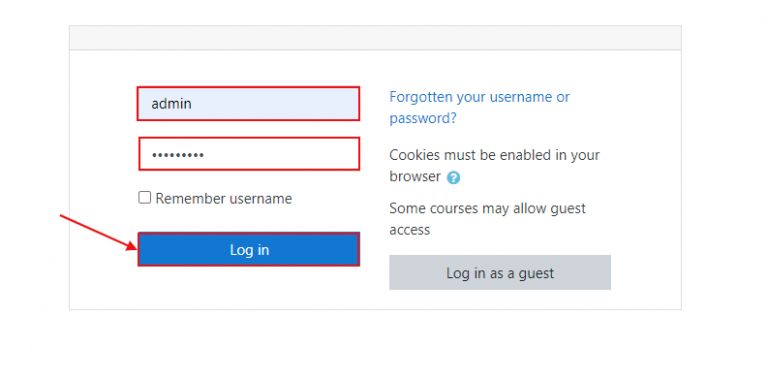 #Step 2 Go to plugins
After that, you have to click on the *Site Administration* link on your list. You can do it from your administrator dashboard. Now, in site management, click on *Plugins*. That's where you can establish the BigBlueButton tool. And again, in the plugins, click on *Install plugins*.

#Step 3 Install and establish BigBlueButton plugin
In the third step, so here you have two alternatives, and you can choose any way to install it. First, you can install the plugin from the moodle plugins directory. Moreover, you can install it from a Zip file.
You can use the former way to install BigBlueButton from moodle plugin directory. But you can do it if you have an account with moodle.org. And if you have no account, then install it by choosing, Install the plugin from a Zip file.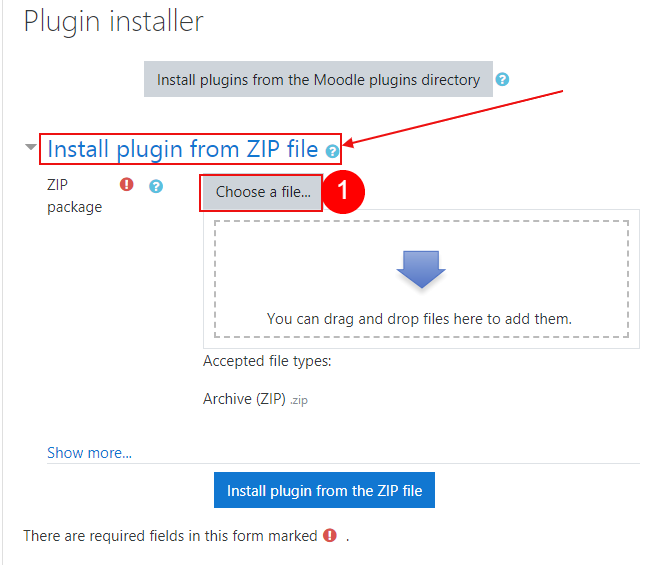 And, for this, you have to search for the BigBlueButton from the search bar and download it.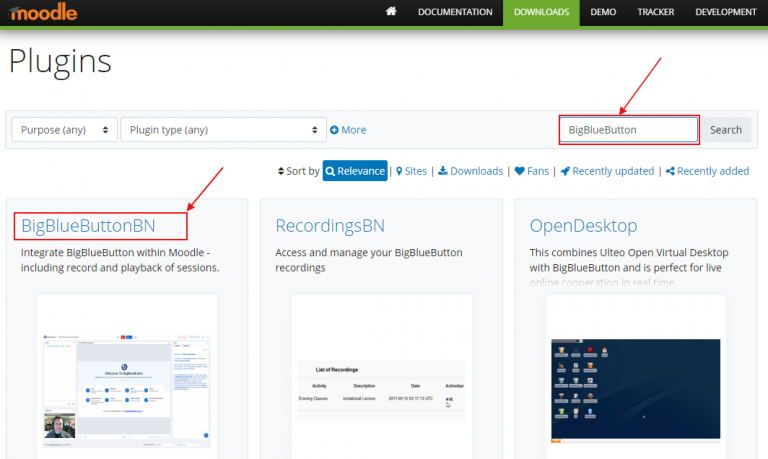 #Step 4 Upload zip file
After that, you have to choose the zip folder. Then you have to upload it before you click on the *Install plugin from the Zip file* option.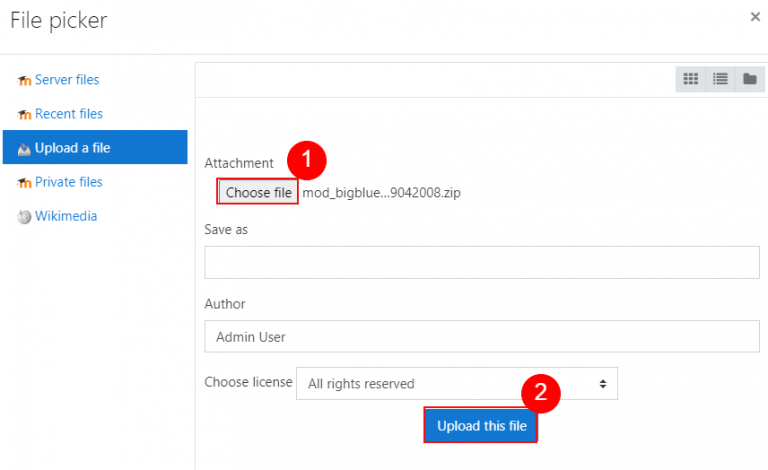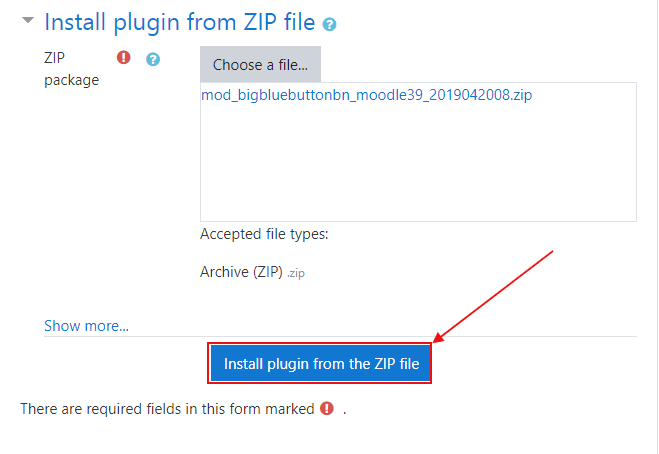 #Step 5 Continue the installation part and upgrade the database
Now click on the *Continue* button. Then you have to click on the *Upgrade moodle database now* option for installation.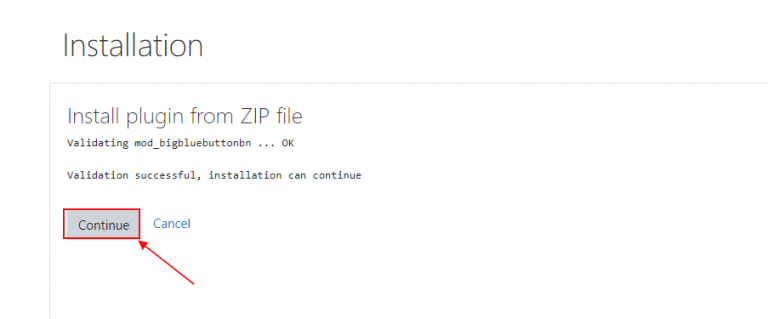 #Step 6 You are Almost There!
Once you upgrade the moodle database, hit the *Continue* button again. Afterward, you will reach a complete settings page. Do not move and change any settings. Yes, that is it.
Now, in the end, hit the *Save changes* again. Woah! you did it. As a result, the installation is complete.

#Step 7 Cross-check whether BigBlueButton appears or not!
Now, move back to *Site Administration* and then to the *Plugins* option. Here you will see a *Plugins preview* link. Hit the link, and there it is. As a result, the BigBlueButton to launch your first-ever online session.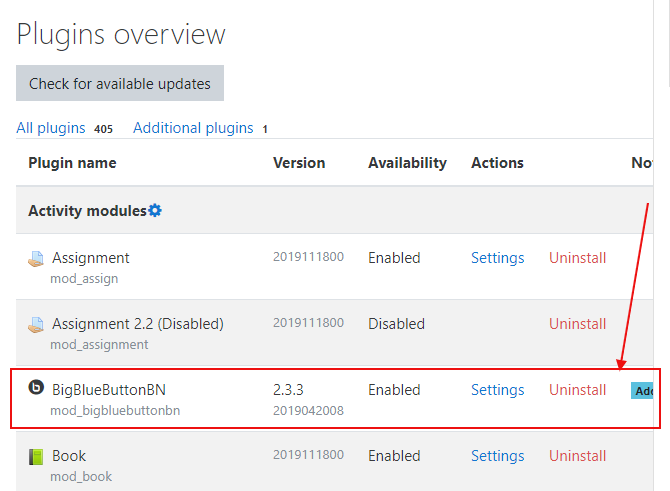 How to add an online class for a program
Here, we are showing you these five simple steps. It will take only 10 minutes to launch your first virtual session.
# Step 1 Pick your course
So, choose your course and go to the gear icon to your right. And click Turn edit on from it. Then you will see a link against a topic. Now, click this *Add activity or resource* link.

# Step 2 Select the BigBlueButton
Select the BigBlueButton from the course activities, and click on the *Add* option.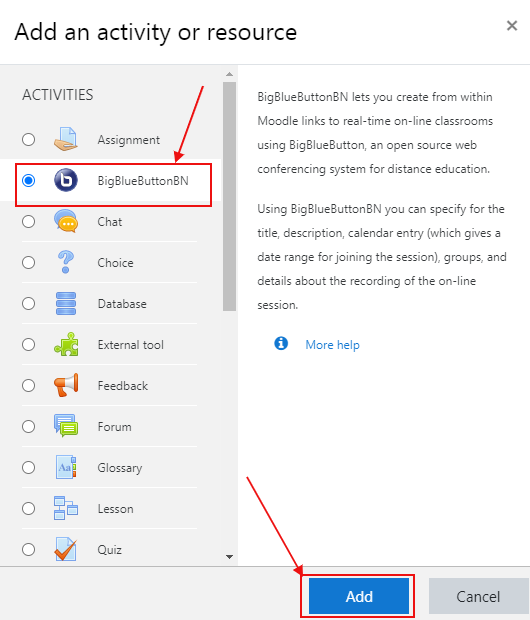 #Step 3 Name your class
Here you can name your online session. Moreover, you can set down the timings. And then, you click on the Save and return to course button.


#Step 4 Move back to the course
Now click on join session to launch your first online session.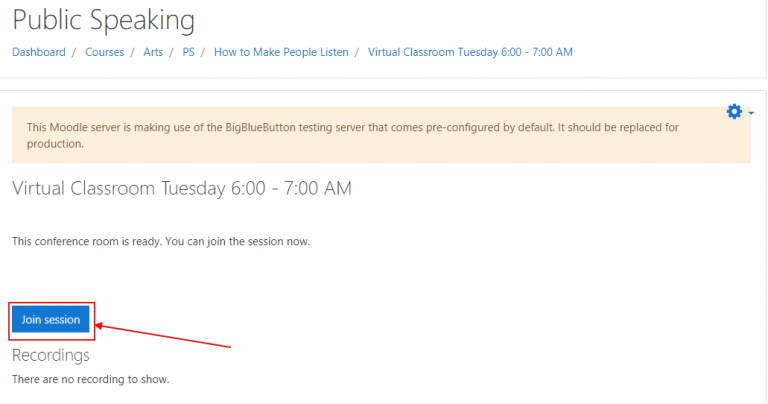 #Step 5 You are all set!
In short, this is how your virtual class will look like for your program. So, now you are all set, señor!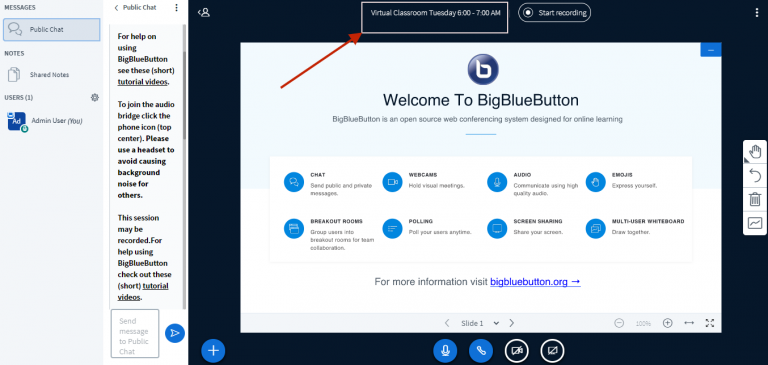 Moreover, get in touch with us for more information about moodle and BigBlueButton. Or if you are new to our site, you can visit Here. And for moodle updates, you can check out our previous moodle blogs. Check out below.
https://taketwotechnologies.com/moodle-4-0-course-page-structure-release/
https://taketwotechnologies.com/moodle-4-0-dashboard-redesign-unlocked/
https://taketwotechnologies.com/roadmap-to-moodle-4-0/
In addition, follow us on Linkedin to get all the recent updates. https://in.linkedin.com/company/take-2-technologies
Also, get in touch with us for moodle requirements, we would love to hear from you and solve your queries.